MarCom WG 145: Berthing velocity analysis of seagoing vessels over 30,000 dwt (2022) has been released!
The available data on berthing speeds dates back to the 1970s and was derived from a limited number of vessels. With a change in naval architecture the dimensions of vessels are now much larger. Many of these vessels are manoeuvred by highly powered tugboats or have large bow thrusters or stern thrusters adding to the manoeuvrability. Additionally portable navigation aids, communication tools and other developments also assist during the berthing procedure of a vessel. Based on these developments there was a need to investigate and update the knowledge of the actual berthing velocities exhibited in ports around the world.
The objectives of this WG 145 were to review vessel berthing velocity data from various ports around the world. This design parameter has the greatest influence on the berthing energy and subsequent fender systems. Consequently, a great deal of data on berthing velocities was collected and a proposal of design values was made by statistically examination of the available data.
The berthing speeds which have been recorded can be used by PIANC Working Group 211 'Update of WG 33 – Guidelines for the design of fender systems' to update the WG 33 report 'Guidelines for the design of Fender Systems'. Additionally, the data also gives port authorities, terminal operators, consultants and related companies the possibility of improving the design of marine structures by themselves in the future through recent data acquisitions and additional measurements.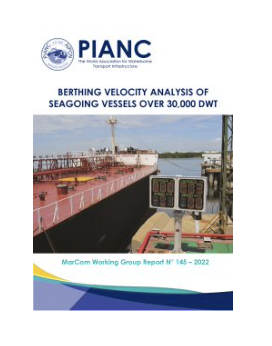 Members are able to download all publications for free in the Members Only Section.
Non Members can purchase a copy here: