PIANC AU-NZ Board Member Hon A/Prof Ron Cox attended PIANC COPEDEC X in Manila 9 to 13 October 2023. Ron is also a member of PIANC's International Co-Operation Commission (CoCom) and serves on PIANC's Permanent Task Group on Climate Change (PTGCC).
The success of the First International Conference on Coastal and Port Engineering in Developing Countries (COPEDEC), held in Colombo, Sri Lanka in March 1983, resulted in the subsequent holding of this special conference series once every four years in a developing country.
The 10th COPEDEC was a resounding success as a face to face conference, having been delayed by Covid since 2020. There were 236 registrations – 192 from 17 developing countries and 44 from 15 developed countries – including 5 representatives from Australia.
The Proceedings of the COPEDEC X conference are available on line
PIANC COPEDEC X 2023 – Conference Proceedings.pdf
While at COPEDEC-X Ron represented PIANC AU-NZ at a meeting of the National Sections and Qualifying Members Secretaries with PIANC President Francisco Esteban Lefler and Secretary-General Geert van Capellen – both of whom attended the conference.
Ron and Prof. Chari Pattiaratchi from UWA presented along with five other international experts at a short course attended by over one hundred delegates on Monday. The short course covered Port and Marine Terminal Planning & Engineering and Coastal Science & Engineering.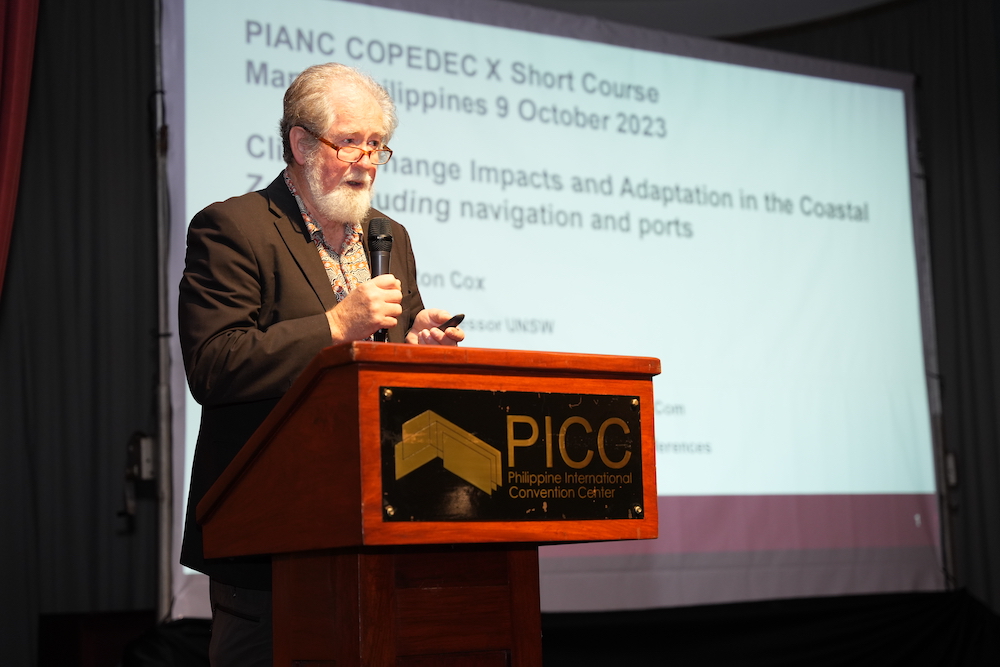 Prof. Chari Pattiarachi who is a longstanding attendee of COPEDEC conferences gave the International keynote address following the opening Ceremony on the Tuesday morning of the conference.
Ron as Chair of the Selection Committee for submitted papers played a major role in supporting the LOC Secretariat led by Christopher Ornum of Philippines Port Authority in developing the Program.
Papers covered a wide range of topics across coastal and port engineering – including Data collection and analysis, monitoring, design, numerical modelling, physical modelling, construction, operations, management, climate change and adaptation, and sustainability.
Special Sessions were held on Dredging for Sustainable Infrastructure and Marina Design.
The Proceedings of the COPEDEC X conference are now available online.  
PIANC COPEDEC X 2023 – Conference Proceedings.pdf
The Cultural evening and banquet dinner on the Thursday night followed site visits to ports of Manila and Batangas. The cultural evening was a resounding success with great food and entertainment which included music, dancing and singing by the choir of the staff of the Philippines Port Authority.